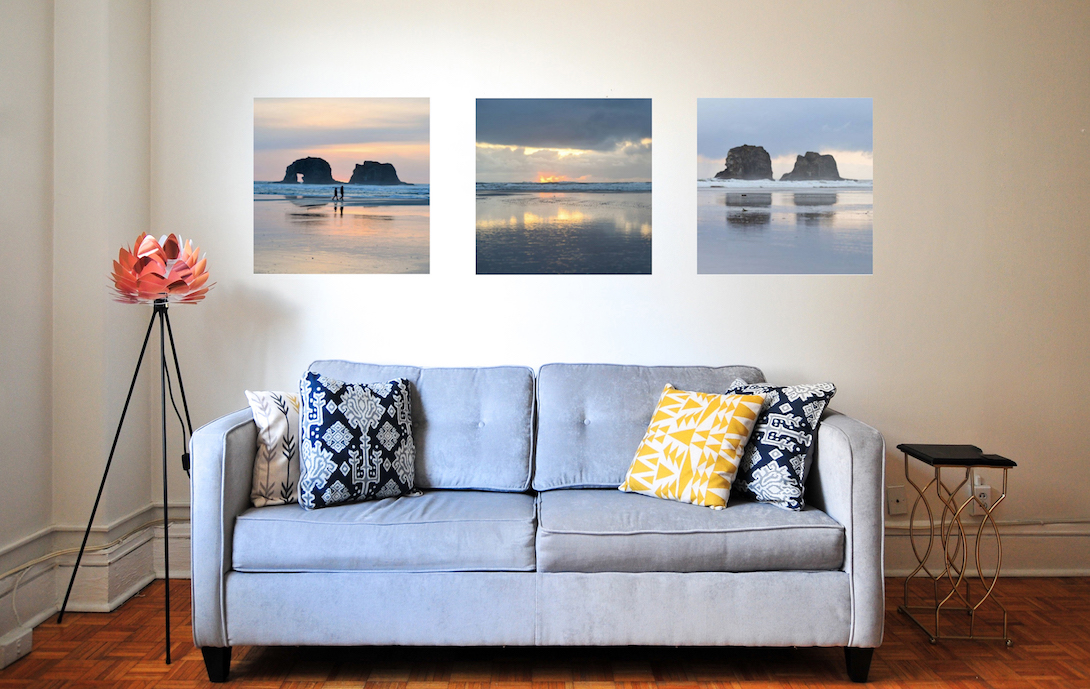 If your room is in need of an update, you should print Instagram photos (your own) and display them on your walls. Don't just keep them online on your profile. Display them in your house where everybody who visits can admire them! Besides, this is a quick and easy way to bring life and personality to any room.
Instagram photo prints would also make great, personalized gifts for her or for him. You will just need to download their Instagram photos using a tool like Dinsta.
Resolution & sizes for Instagram photo prints
Since July 2015, Instagram pictures are 1080×1080 px, which is a pretty good resolution. It's enough for a quality print, even up to 75 x 75 cm/ 30 x 30 inches, but I wouldn't recommend going any higher. You wouldn't want your beautiful photos to look pixelated, right?
When you decide on the size that you want to print, take into consideration the size of the room, and especially the width and height of the wall. Since you can't print Instagram photos extra-large, perhaps you should consider ordering a few. With them you can make a photo collage or a nice looking gallery wall.
Do a mock-up
What's great about printing Instagram photos is that you already know what pictures go well with others by simply looking at your profile. However, it's always helpful (and fun) to do a mockup.
Pick your favorite shots (those that you want on display) and create a collage. If you don't have Photoshop, or if you don't know how to use it, you can do a very basic collage of Instagram photo prints in Google Slides, totally free. The purpose of the mockup is to see how the pictures look together.
Arrange photos just as you want to display them on your wall. If you're willing to go an extra step, take a picture of the wall where you want to hang your photos. Use that as the background of your collage.
Here's an example of a mockup what I created in Photoshop, in under 10 minutes, using some Instagram photos from my account (@janinamoza).

You can create a symmetrical, organized composition, inspired by your profile, or go wild and scatter the Instagram photo prints on your wall more freely.
Printing Instagram photos
You can order photos directly from your phone, tablet or computer, but it's probably best to use a computer. The screen size is always an advantage when it comes to working with images. Here are the steps that we recommend you to take:
Transfer your Instagram pictures from phone to computer using a transfer cable.
Next, decide on the support. There are many options nowadays: metal prints, acrylic glass, canvas, forex, photographic paper. Needless to say, we recommend our service, zor.com for stunning metal, forex and acrylic photo prints, at great prices. It will add a special metallic or glossy effect to your photos. Many people will ask you about where you got them from! It's up to you if you want to share the secret or not.
Pick a service that operates in your area, or which delivers to your country. Zor.com does deliveries to many countries across Europe: Austria, Belgium, Czech Republic, Denmark, Estonia, France, Germany, Hungary, Ireland, Italy, Lithuania, Netherlands, Poland, Portugal, Romania, Slovakia, Slovenia, Spain, Sweden and United Kingdom.
Upload your photos and order.
That's all there is to know! After you get your Instagram photo prints, you shouldn't keep them in a box. Hang them on your walls, to add more personality to your living space.